Simple affiliate program
123Systems affiliate program allows you to earn account credits,
these credits can be used to buy new services or pay existing invoices!
Industry leading uptime
Rest assured that with 123Systems your services are always kept online.

24/7 Technical
Support
123Systems Technical support team is available to you around the clock
Network & Datacenter
123Systems services are located in the Databank building in Dallas, TX. The facility features all-fiber connectivity, multiple connections to the power grid, redundant power and cooling systems, and multiple security layers.
We have applied the most rigorous standards of design, testing and maintenance in our facility to ensure maximum security and uptime for the critical data and applications hosted for our clients. The facilty has multiple key features that allow us to provide solid service to our customers:
Six utility feeds from the Dallas Central Business District power grid, featuring reliable N+3 transformers with ATS switches, plus secure, concrete encased building feeds.
UPS and Generator Backup Power using true A+B power configurations.
All UPS and Generator deployments provide N+1 redundancy provided by:

Four 800 KVA MGE UPS systems
Two 1200 KVA CAT UPS Systems
Four 2.0 megawatt generators
Three 1.5 megawatt generators

Advanced security maintained through:

On site security, 24/7/365
Card access required to enter parking and building lobby
Biometric hand scanner required for datacenter entry
Annual SAS 70 Audits

Consistant and percise HVAC Cooling System designed with N+1 redundancy and featuring:

3500 Ton cooling tower capacity
A multiplicity of 30 Ton Liebert CRAC Units
80,000 gallon reserve make-up water tank
Liebert Leak Detect System
Raised flooring
123Systems maintains an enterprise-class network with top of the line bandwidth carriers.
Network Equipment
123Systems utilizes all Cisco hardware through-out the datacenter. With two border routers, two core routers and redundant links going to each switch on the racks, 123Systems provides the superior network that you need in order to provide solid services to your clients.
Bandwidth Carriers
We provide our customers with multiple Tier 1 bandwidth carriers.
AboveNET
Internap
Telia
Savvis
The 123Systems Fully Redundant Advantage: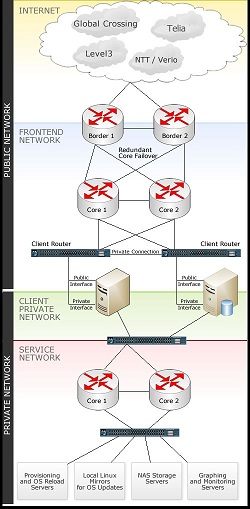 123Systems utilizes one of the most sophisticated and redundant networks in the hosting industry. When you purchase a new VPS from 123Systems and it is placed online, you will see firsthand the 123Systems Fully Redundant Advantage.
Your server if first connected, via two NICs, to a switch on our network. The switch is connected to two cores. The cores form an interlocking mesh of connectivity with two border routers on the front-end of our network. Both cores are not only connected to both border routers, but also to each other. Between the core and the border routers, there are a total six bundled connections which each consist of at least 2+ strands of fiber with automatic failover between the fiber pairs. The bundled configuration allows us to scale the internal network infinitely by simply adding more fiber pairs to the bundle. The border routers are then linked to the internet via multiple tier 1 transit providers.
The result?
Peace of mind that your server is situated on a highly reliable network.